BIRKS RAWLINS COMPANY - VINE POTTERY - HISTORY
The Birks Rawlins Company in 1917 exhibited at the British Industries Fair, where the showpiece of the stand was a copper casket with pate-sur-pate tiles having a theme of War & Peace. The stand was visited by her majesty the Queen Mary who purchased a Chinese style jar & a perforated blue vase. In 1918 table decorations were introduced known as floating bowls, designed to enhance floral displays. The business manufactured realistic butterflies which clipped onto the floating bowls. Later the range extending to dragonflies, bees, wasps & kingfishers. During 1919 the business extend its range of miniature's to include architectural models, among them St. Paul's cathedral.
At the British Industries Fair in 1924 her majesty the Queen Mary visited the stand purchasing a 'frog on a rock', from a display of over 2000 different productions. Wares generally were indulgent, diverse in pattern and design, ranging from table ware, tea coffee & breakfast sets, pate-sur-pate plaques and vases, decorative displays, pierced wares, and a large range of crested & non crested ware miniatures. A comprehensive range of these miniatures were produced under such headings as, coloured ladies & figures, unglazed parian busts, ancient artifacts, coloured and white buildings, monuments, crosses & historical folklore, seaside souvenirs, bathing belles/twenties flappers, figures, animals, birds (including eggs), great war, home/nostalgic, comic/novelty, cartoon/comedy, alcohol, sports/pastimes, musical, transport, 'modern' equipment, hats, footwear, miniature domestic, domestic and miscellaneous.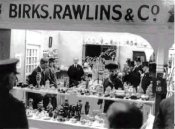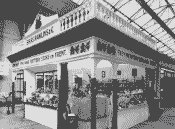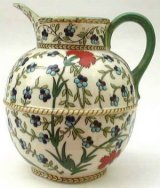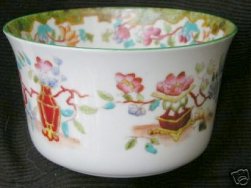 Click To View More Images & The Product Catalogue Pages
Generally the majority of ware bears the registered mark of B.R. & Co. or
Savoy China. There are several other variations e.g. G.B. & Co., B & Co., & BIRKS, [1896 - 1900] on record in the 'Pottery Gazette' 1905/1907. Presumably the former acknowledging the partnership of Goodfellow & Birks. Wares were also registered under Roseate Porcelain, and Carlton China.
Sadly the business must have over extended itself, as in 1925 at the British Empire Exhibition, the description in the Pottery Gazette was, "a very miscellaneous production of china". In 1928 the business was in financial difficulty and at this time Rawlins decided to withdraw his capital. Wiltshaw & Robinson earthenware manufacturer of Carlton Ware mounted a rescue operation. The idea being that it was sensible to combine two different factories producing two different products. Birks Rawlins & Co. Ltd. as it was now to be known was to remain as a decorating business only, providing patterns and shapes, until 1933 when the business was finally closed down.

---
TRADEMARKS

Wares from the business can be found in collections and antique shops, the marks often being unknown, thus a good price can be obtained. Over the past years the value of these wares have started to increase, with very handsome prices being obtained at auction. This is primarily due to the pate-sur-pate being so collectable.
The Blue Tongue Studio Copyright 2002-2011 Australia
This website was created by The Blue Tongue Studio
Birks Rawlins Company - Vine Pottery - History
Are Your Valuables & Collections Documented For Loss Through Disaster Or Theft?
---
Learn More By Visiting The Global Inventory Information Network
Helping The World Take Inventory & Preparing Homes & Families For Loss

---
Aussie Home Inventories Home Inventory Service - Australia