BIRKS RAWLINS COMPANY - VINE POTTERY - HISTORY
Welcome to the Birks Rawlins Company web pages. With the history of this fascinating pottery business we have included images of wares and copies of the companies catalogue pages / trademarks. We hope this allows you to identify wares that you have in your possession. We would welcome any images that you may wish to forward to us for inclusion in this website.
The pottery business of Birks Rawlins & Co. is often mentioned in subject matter related to Wiltshaw & Robinson, or Carlton Ware. Little has been known or printed about this fine bone china business, that operated for nearly forty years, producing many fine and collectable wares. The studio has been researching this business for some time now and is able to offer you these web pages.

Hello my name is 'Winkie Glad Eye' and I am your guide. Clicking on me will enlarge images.

Birks Rawlins & Co. Advert
---
HISTORY
L.A. Birks & Co. was founded in 1894, when a well known pate-sur-pate ceramic artist Laurence Arthur Birks, became joint owner with Charles Frederick Goodfellow and Adolphus Joseph Rawlins of the Vine Pottery, in Stoke-on-Trent, 'The Potteries', England. This fine bone china factory was situated off Summer Street, in Stoke-on Trent. In 1900 the business changed its name to Birks Rawlins & Co., after the departure of Goodfellow in 1898 from the partnership. More information on Charles Frederick Goodfellow. At this time Rawlins became the major financier of the business and with this fresh influx of capital, a new factory was built adjacent to the existing one.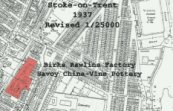 Map Of Stoke-on-Trent Showing Location Of Factory
---
WARES
This fine bone china business produced many kinds of wares over the thirty nine years it operated. Most of the wares up to 1900 consisted of tableware, with a few pate-sur-pate plaques. This interest for Birks in pate-sur-pate was a progression from his time spent at Mintons, 1872-1894.
In 1909 Edmond Reuter whom had been with Birks Rawlins & Co. for four years, developed a range of ware known as Persindo Porcelain. Patterns for this range were drawn from Persian and Indian sources. Persindo was a success with production continuing well into the 1920's. A range of 'bread & butter' ware was devised using designs of miniature everyday objects, known as Savoy Crest China. This crested ware was intended to compete with the successful W.H.Goss.
In 1911 the business was awarded a 'Diploma of Honour' at the 1911 Turin Exhibition, for its display of fine white china tableware, vases, trinkets and pate-sur-pate wares. In 1913 at the Ghent International Exhibition the business was again awarded a 'Diploma Of Honour', for a pate-sur-pate vase [decorated with giant lobsters and seaweed] winning the award. Pate-sur-pate was made throughout the war, with the business being awarded a 'Diploma of Honour' at the 1915 exhibition in San Francisco.
The studio collects the wares of this business and is always seeking to buy.
Next Page
For Birks Rawlins Company


The Blue Tongue Studio Copyright 2002-2011 Australia
This website was created by The Blue Tongue Studio
Birks Rawlins Company - Vine Pottery - History
Are Your Valuables & Collections Documented For Loss Through Disaster Or Theft?
---
Learn More By Visiting The Global Inventory Information Network
Helping The World Take Inventory & Preparing Homes & Families For Loss

---
Aussie Home Inventories Home Inventory Service - Australia