PORCELAIN RESTORATION & CHINA REPAIR SERVICES
STUDIO ASSESSMENT
Objects arrive for repair in many conditions:
In multiple pieces
With chips & cracks
Missing handles

,

spouts

&

limbs
All objects require a Studio Assessment or OnLine Assessment. This will allow us to identify the body type, assess the damage and choose a suitable cleaning and bonding plan for the object. Studio Charges An estimate will be supplied and work agreed upon, before work commences. We will always consult YOU the client prior to any work that may extend beyond the original assessment.
TYPES OF CHINA RESTORATION / PORCELAIN REPAIR WE OFFER

We offer three types of restoration :
Invisible

- Where the repair is finally retouched usually with an airbrush to match body colour and then surrounding decoration added by brush. The majority of repairs of this type, are as invisible to the eye as we can make them. This repair is the most expensive $$$ as it is very time consuming due to the multiple processes.
Oriental - Filled areas are retouched with either gold laquer or leaf. Minimal retouching of decorative areas.
Museum - The filled areas match either the body colour or the prime decoration colour, depending where the restoration is on the object.
All objects once restored are for Ornamental & Display purposes ONLY, due to repair materials being a health hazard, where food and drink are used. A restored object is best kept out of direct sunlight and not to be stored in a dark area. Care needs to be taken when handling a restored object. Read our Object Care information
CONSERVATION & RESTORATION TECHNIQUES USED BY THE STUDIO ARE FULLY REVERSIBLE AND WILL NOT HAVE AN ADVERSE EFFECT, NOR HARM THE ITEM OR IMPEDE FUTURE TREATMENT.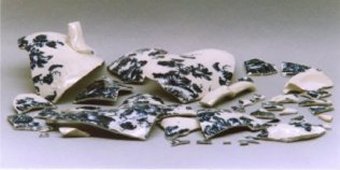 Cleaned Shards Await Bonding
Museum Repair
---
ARCHIVAL REPORTS
An archival report will be supplied when requested outlining the work done. This is often requested where the object is valuable in the monetary sense or owned by collectors and museums.

---
INSURANCE CLAIMS
Insurance claims may be applicable where the break is accidental and recent. Please check with your insurer before contacting us.